HAND OF THE PROPHET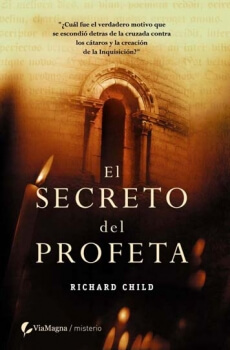 About the Book
***Rights Available***
When archeologist Kathleen Phillips' team discovers an ancient monk's codex on the tiny Scottish island of Iona, it sends ripples from the small island to the Vatican, where fear of the book's surfacing has driven Pope after Pope to push for its discovery. But the Church has never been able to locate it.
For Raimon Trencavel, the discovery of the book fulfills a lifetime mission. Descended from the Cathar Knights—who were hunted down and killed on the orders of Pope Innocent III—and driven mad by a lifetime of abuse at his father's hand, Trencavel wants only to find the legendary book that will undo all that the Catholic Church has stood for through the centuries.
For Jaime Cameron, a sea-plane pilot and lost soul, the discovery of the book brings him to Kathleen Phillips, the woman who may finally heal his wounded heart and lead him to a far brighter future than he'd ever considered.
From a murder in the Vatican's secret archives in the prologue to a face-off with the Italian Mafia in the final chapter, this book is one long, suspenseful chase, pitting the lovers Kathleen and Jaime against battle-hardened mercenaries funded by a billionaire madman and driven on by a cardinal eager to become Pope, and against Trencavel, trained in the art of battle and assassination from his youth. It's a three-way race to the finish complete with air chases, gun fights, a passionate romantic connection, and a secret even the Catholic Church will go to any length to protect, no matter how many must die.
British Rights:
The Zack Company, Inc.
Translation Rights:
The Zack Company, Inc.
Audio Rights:
The Zack Company, Inc.
Film & TV Rights:
The Zack Company, Inc.
Rights Sold:
Spanish rights to Via Magna
Russian rights to AST Publishers
Portuguese (Portugal Only) rights to Humanity's Friends Books
We are a participant in the Amazon Services LLC Associates Program, an affiliate advertising program designed to provide a means for us to earn fees by linking to Amazon.com and affiliated sites. We also participate in other affiliate advertising programs associated with other online booksellers. This means if you click on the link and purchase the item, The Zack Company, Inc. will receive an affiliate commission.