AMELIA EARHART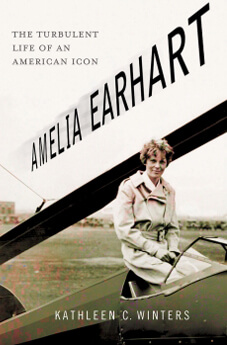 About the Book
The Turbulent Life of An American Icon
Palgrave Macmillan
Hardcover (November 2010)
As famous today as on the day she disappeared over the Pacific Ocean during an around-the-world attempt in 1937, Amelia Earhart continues to spark controversy and conspiracy theories. Every year "clues" and "findings" of her disappearance surface, and the hunt for her intensifies. Theories abound, among them that the Japanese captured and later executed her as an American spy, but the mystery of her life and final flight deepens.
Seventy-one years later this beloved celebrity's reputation remains virtually untarnished. But mention Earhart to an aviator and you'll find she evokes strong emotions. Why do many male pilots insist she could not fly well and had not adequately prepared for her last flight? Why do female pilots blame her poor judgment in aviating on her manager/promoter husband, George Palmer Putnam, whom they believe prodded her shamelessly by dictating she maintain a never-ending, grueling schedule of lectures and publicity stunts? Or was Putnam a devoted spouse who gave up his own successful career to help his wife? Amelia Earhart: The Turbulent Life of an American Icon, a controversial, bold book and the first of its kind, will answer these questions and more.
Even though articles, books, and movies about Earhart have appeared over the years (and a biopic starring Hillary Swank and Richard Gere soon to be released), Kathleen Winters' research tells her that none have addressed Earhart's flawed flying career and her life of contradictions.  Aviation writer Winters offers a new book packed with adventure and romance that delves into Earhart's personality and her legend.
"In Amelia Earhart: The Turbulent Life of an American Icon, pilot and biographer Kathleen C. Winters draws upon new sources to give us a welcome and long overdue account of Earhart's tumultuous career, as well as the careful fashioning of her public image. A book with no small share of surprises, and an important contribution to the history of women and aviation."—David Toomey, author of Stormchasers and co-author of Amelia Earhart's Daughters
"If you're only going to read one Amelia biography, make it this one. It's fast moving, puts all the facts in the context of the times, and doesn't try to prove a point. It's hard to put down."—Budd Davisson, Editor-in-Chief, Flight Journal
"Kathleen Winters's book is full of details I had never known about Amelia Earhart, which put her achievements and ultimate tragedy in a surprising new perspective. The author's experience as a pilot herself comes through in every part of the book. Anyone interested in flying or women who defy stereotypes will enjoy this book; but it also is a study in the timeless American traditions of marketing and PR."—James Fallows, Atlantic Monthly, author of Free Flight
"Kathleen C. Winters promises to dig through the myths and heroic dross to look at Amelia Earhart from 'a pilot's perspective.' This she does with masterly story-telling precision, revealing the sad truth that the famous aviatrix was all too often (usually owing to conflicting demands) ill-prepared to undertake her many attempted record flights. The result is a sober and absorbing account of the world's most iconic, yet tragic female pilot."—Larry E. Tise, author of Conquering the Sky and the Wilbur and Orville Wright Distinguished Professor of History, East Carolina University
"Those who want to know more about women pilots in the early days of flying can learn a lot in the late Kathleen Winters' new biography, Amelia Earhart: The Turbulent Life of an American Icon."—Mary Ann Grossmann, St. Paul Pioneer Press
We are a participant in the Amazon Services LLC Associates Program, an affiliate advertising program designed to provide a means for us to earn fees by linking to Amazon.com and affiliated sites. We also participate in other affiliate advertising programs associated with other online booksellers. This means if you click on the link and purchase the item, The Zack Company, Inc. will receive an affiliate commission.