Artful*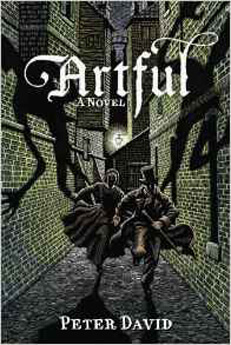 About the Book
Being the Heretofore Secret History of that Unique Individual the Artful Dodger, Hunter of Vampyres
Amazon|47North
Trade Paperback (July 2014)
Brilliance Audio
Audio edition (July 2014)
You are, no doubt, familiar with Oliver Twist. London in his day was dark and dreary, and with good reason. It was infested with vampires.Yes, while Mr. Dickens left out the small fact that several of the characters in Oliver Twist were actually vampires, this new work will show the reader the dark reality.
In Artful, best-selling author Peter David tells the story of an older and somewhat wiser Dodger, who has escaped the fate related by Mr. Dickens and continues his less-than-honest dealings in the backstreets of London. But when he sees a young boy about to be kidnapped, he takes action, only to find himself thrust into a battle between the world's greatest vampire hunter and the most powerful vampire in London for the control of the British Monarchy, all of Britannia, and therefore, the world.
*The author of this title is no longer represented by The Zack Company, Inc.
We are a participant in the Amazon Services LLC Associates Program, an affiliate advertising program designed to provide a means for us to earn fees by linking to Amazon.com and affiliated sites. We also participate in other affiliate advertising programs associated with other online booksellers. This means if you click on the link and purchase the item, The Zack Company, Inc. will receive an affiliate commission.