COMBAT SWIMMER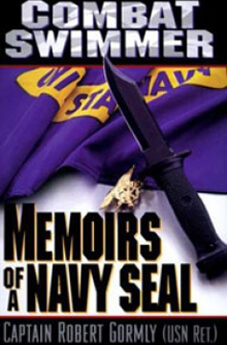 About the Book
Dutton/Penguin Putnam Inc.
Format: Hardcover (June 1998)
Trade Paperback Reprint (August 2010)
They are sometimes called "The Silent Option." They are the "elite of the elite." Their exploits have been the subject of best-selling nonfiction works such as ROGUE WARRIOR and novels such as GREEN TEAM. They are the US Navy SEALs, and Bob Gormly may be the best of this group of men already known as "the best of the best." COMBAT SWIMMER is not only the memoir of one man's combat experiences, but also a fascinating look inside the head of one of America's greatest heroes.
"Suspense filled…a candid and unstinting military memoir."—KIRKUS REVIEWS (May 1, 1998)
"COMBAT SWIMMER is a gripping, stroke-by-stroke, first-hand account of Navy SEALs."—Gerald Astor, author of THE MIGHTY EIGHTH and CRISIS IN THE PACIFIC
"Bob Gormly tells his story with remarkable wit, wisdom, drama, and grace. COMBAT SWIMMER is a superb and fascinating story about the U.S. Navy SEALs, from one of the best of the breed."—Hans Halberstadt, author of U.S. NAVY SEALs, U.S NAVY SEALs IN ACTION, and INSIDE THE U.S. NAVY SEALs
"Gormly has been a part of the SEAL community virtually since its emergence….When Gormly relieved the notorious Richard Marcinko, he inherited a unit that had made a policy of pushing envelopes and ignoring rules. His description of the intraservice politics involved in taming the organization without breaking its morale is as good as anything in print on the challenge of maintaining effective special operations forces in the context of a democratic system. His account of the 1985 ACHILLE LAURO's hijackers reveals a delicate balance of roles and responsibilities in managing doctrine and training considerations, tactical issues and policy questions. Gormly is no knight without fear and reproach in the mold of Tom Clancy's Jack Ryan. He is a warrior for the working day, not always right and not always wise. But in a harsh world, it will comfort many to know that men with Gormly's spirit, character and patriotism wear this country's uniform."—PUBLISHERS WEEKLY (May 4, 1998)
"Gormly doesn't pat himself on the back in COMBAT SWIMMER. He tells it like it was, not hiding his mistakes and the tragedies that go hand-in-hand with combat and military training. He avoids the mistakes that many first-time authors commit: he doesn't dwell on subjects too long or over-explain. He keeps the story moving, which makes COMBAT SWIMMER a quick, fun read.
"But even though the book moves quickly, Gormly doesn't leave out the details…The reader should expect, however, for Gormly not to pull any punches."—SOUNDINGS (July 15, 1998)
"An insightful, compelling, informed, briskly-paced narrative embodying the warrior spirit and told with commanding presence."—John B. Dwyer, author of COMMANDOS FROM THE SEA
A "fascinating look at the skill and guts [US Navy SEALs] displayed under fire."—THE VIRGINIA PILOT
"…an extraordinarily moving story."—NAPLES (FL) DAILY NEWS review of the audiocassette (April 25, 1999).
| | |
| --- | --- |
| British Rights: | Dutton/Penguin Putnam Inc. |
| Translation Rights: | Dutton/Penguin Putnam Inc. |
| Audio Rights: | The Zack Company, Inc. |
| Film & TV Rights: | The Zack Company, Inc. |
| Rights Sold: | Unabridged audio rights to Blackstone Audio (Abridged are available.) |
We are a participant in the Amazon Services LLC Associates Program, an affiliate advertising program designed to provide a means for us to earn fees by linking to Amazon.com and affiliated sites. We also participate in other affiliate advertising programs associated with other online booksellers. This means if you click on the link and purchase the item, The Zack Company, Inc. will receive an affiliate commission.