DEAD BANG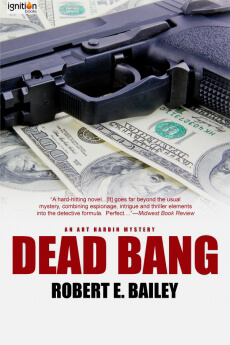 About the Book
An Art Hardin Novel
M. Evans & Company, Inc.
Format: Hardcover (January 2007)
Some secrets age well, others tend to fester. Art Hardin, a private investigator and retired counterintelligence officer, is a man of many secrets. One of these secrets has fallen into the hands of a local TV muckraker which can cause enough trouble to keep most noir detectives busy for three hundred pages—Art's not that lucky.
Just after Art locks horns with the journalist, his wife, Wendy, takes him to the airport to pick up a young friend returning from a Caribbean vacation. Karen Smith deplanes with a fabulous tan, a new beau, and a suitcase full of money—Karen doesn't know about the money, but her new Middle Eastern boyfriend does. Using a Canadian passport to enter the US, he put the money in Karen's suitcase so he wouldn't have to carry it through customs.
After a donnybrook and a shootout at Karen's house the money disappears. Lots of people want it. Some of them kidnap Karen, some of them set off a bomb at the TV station while Art is on the air with the muckraker.
After that, things get nasty.
"A hard-hitting novel…. …goes far beyond the usual mystery, combining espionage, intrigue, and thriller elements into the detective formula. Perfect for discriminating mystery collections."—MIDWEST BOOK REVIEW, August 2007
"Good writers write what they know and Robert E. Bailey knows about the world of Private Detectives. Using his own knowledge and experience he depicts a believable tale that is entertaining and intriguing. This is gritty, smart storytelling that forces the reader to participate in the story rather than simply observe it. Fans of hardcore detective novels will enjoy this latest installment in the Art Hardin Mystery series."—THE NEW MYSTERY READER, January 2007
"All the time 'Dead Bang' is fast, lively and surprisingly informative and ingenious…. If you like your mysteries peppered with the bizarre and hilarious, with side dishes of history, then 'Dead Bang' is a dead-on read for you!" —REBECCA'S READS
"Not many authors since the great Chandler and John D. MacDonald of Travis McGee fame have the ability to write a book I know beforehand will not disappoint." —READER VIEWS
| | |
| --- | --- |
| British Rights: | M. Evans & Company, Inc. |
| Translation Rights: | M. Evans & Company, Inc. |
| Audio Rights: | The Zack Company, Inc. |
| Film & TV Rights: | The Zack Company, Inc. |
| Rights Sold: | |
We are a participant in the Amazon Services LLC Associates Program, an affiliate advertising program designed to provide a means for us to earn fees by linking to Amazon.com and affiliated sites. We also participate in other affiliate advertising programs associated with other online booksellers. This means if you click on the link and purchase the item, The Zack Company, Inc. will receive an affiliate commission.