DYING EMBERS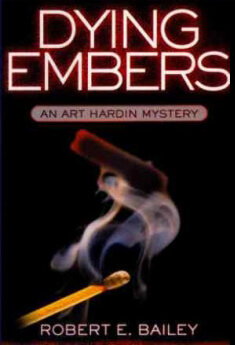 About the Book
An Art Hardin Mystery
M. Evans & Company, Inc.
April 2003
Format: Hardcover
Art Hardin, retired military intelligence officer turned private investigator, is content with his regular caseload involving insurance fraud and employee theft. So, when a wealthy industrialist approaches Art to find an old flame, he's wary of taking on the case. Only when pressed by his wife, Wendy, does Art agree to help, but only if the decision to make contact is left to the old flame.
The old flame, a reclusive but prominent artist who has changed her name, turns up dead shortly after Art locates her. His client charged with murder and his detective's license revoked, an angry Hardin then finds himself the subject of "professional" surveillance, his office ransacked, and his life up for grabs as a shoot-out erupts on the street.
The FBI, long on requests and short on information, approaches Art for his help—act as bait. Seemingly out of options, Art agrees, but with an ace up his sleeve. Aided by an outlaw motorcycle gang, Art decides that this time, the bait is going to bite back.
"Bailey, himself a retired P.I., imbues his second [novel] with that reassuring been-there-done-that confidence, plus considerable style and brio."—KIRKUS REVIEWS
"'Mean street' may seem more desperate running through Detroit or Chicago than through Grand Rapids, Mich., but Bailey's second Art Hardin mystery (after 2002's PRIVATE HEAT) showcases a PI who could hold his own anywhere…The author ably mixes action and exposition, as Hardin's seemingly simple quest spills over in all directions as the body count rises…Buckle up and enjoy a wild ride through the mean streets of Grand Rapids."—PUBLISHERS WEEKLY
"DYING EMBERS by Robert E. Bailey is the nifty sequel to his acclaimed PRIVATE HEAT, featuring tough Grand Rapids private investigator Art Hardin…Bailey's at his creative best in the book's last half, as violent confrontations and frenzied, frantic action on the gritty streets of Grand Rapids lead to stunning revelations and an explosive conclusion."—LANSING STATE JOURNAL
"The second Hardin thriller is packed with sharp dialogue, stark violence, and details of real-world investigatory work. An intriguing new voice for mystery fans."—BOOKLIST (May 1, 2003)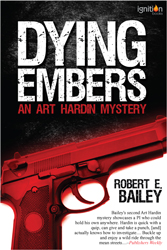 We are a participant in the Amazon Services LLC Associates Program, an affiliate advertising program designed to provide a means for us to earn fees by linking to Amazon.com and affiliated sites. We also participate in other affiliate advertising programs associated with other online booksellers. This means if you click on the link and purchase the item, The Zack Company, Inc. will receive an affiliate commission.