THE ENCYCLOPEDIA OF AMERICAN WAR HEROES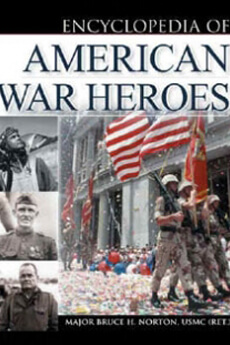 About the Book
Facts On File
September 2002
Format: Hardcover
The ENCYCLOPEDIA OF AMERICAN WAR HEROES is a comprehensive compilation of those who have distinguished themselves on the fields of battle, from Paul Revere to General H. Norman Schwarzkopf.
Written by a military historian with combat experience and access to records from all branches of the American military, this single-volume resource features nearly 400 entries profiling the brave men and women who fought and, in most cases, died to preserve our freedom. Many of the people selected for inclusion in this volume received one or more citations for their heroic achievements: the Medal of Honor, the Navy Cross, the Distinguished Service Cross, the Silver Star, the Bronze Star, or other award. These entries include the individual's name, rank, branch of service, and the circumstances resulting in their citations. All branches of the military—the Army, Navy, Marines, and Air Force—are represented, as are all ranks of service, from buck privates to four-star generals. This reference is also culturally inclusive, making special note of the heroic contributions of African Americans, Hispanic Americans, Native Americans, and Asian Americans.
Entries include J. Armstrong, Revolutionary War; P.G. Beauregard, Confederate States of America (CSA), Civil War; Black Hawk, Black Hawk War; George Armstrong Custer, U.S. Army, Civil War, Indian Wars; John McCain, Jr., U.S. Navy, Vietnam War; and C. Nimitz, U.S. Navy, World War II.
We are a participant in the Amazon Services LLC Associates Program, an affiliate advertising program designed to provide a means for us to earn fees by linking to Amazon.com and affiliated sites. We also participate in other affiliate advertising programs associated with other online booksellers. This means if you click on the link and purchase the item, The Zack Company, Inc. will receive an affiliate commission.