I AM ALIVE*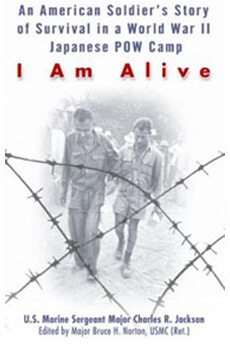 About the Book
An American Soldier's Story of Survival in a World War II Japanese POW Camp 
Charles R. Jackson
Bruce Norton (ed.)
Ballantine Books
Format: Mass-Market Paperback (June 2003)
"In the bleak and bitter cold of a copper mine in northern Japan, a Chief Petty Officer of the U.S. Navy was given an opportunity to write a prisoner-of-war card for his wife. He was allowed ten words—he used three: 'I AM ALIVE!' This message, classic in its poignancy of suffering and despair, captures only too well what it meant to be a prisoner of the Japanese Army."
Now, acclaimed military historian Major Bruce Norton, USMC (Ret.) brings to light a long forgotten memoir by a Marine captured at Corregidor in the spring of 1942 and interned for three devastating years by the Japanese.  With unflinching prose, the words of Marine Sergeant Major Charles Jackson describe the fierce yet impossible battle for Corregidor, the surrender of thousands of his comrades, the long forced marches, and the lethal reality of the P.O.W. camps.  Joining some of the most important eyewitness accounts of war, I AM ALIVE is a testament to the men who fought and died for their country.  Jackson's unembellished account of what his fellow soldiers endured in the face of inhumanity pays tribute to the men who served America during the war—and shows why we would ultimately prevail.
*The author of this work is not currently represented by The Zack Company.
We are a participant in the Amazon Services LLC Associates Program, an affiliate advertising program designed to provide a means for us to earn fees by linking to Amazon.com and affiliated sites. We also participate in other affiliate advertising programs associated with other online booksellers. This means if you click on the link and purchase the item, The Zack Company, Inc. will receive an affiliate commission.