JUST THE WAY HE WAS BEFORE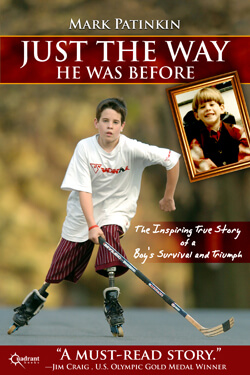 About the Book
The Inspiring True Story of a Boy's Survival and Triumph
Warner Center Street (as Up and Running)
September 2005
Format: Hardcover
Quadrant Books reissue
July 30, 2012
While out with his family one night, six-year-old Andrew Bateson feels suddenly feverish. Although they do not yet know it, Andrew has bacterial meningitis, one of the fastest and deadliest of all infections.
Over the next three weeks, as Andrew lies in a coma, the hospital fights an often minute-by-minute battle to keep him alive. Overwhelmed, Andrew's parents pull away from each other, and their friends wonder if the marriage will survive. While doctors ultimately saved Andrew's life, they weren't able to save his legs. Both had to be amputated below the knees. Some questioned whether he would ever walk again. Yet as he recovered, Andrew stunned his family by saying he wanted to play ice hockey. What happened next stunned them even more.
Just the Way He Was Before is a true story of unexpected triumph—of medicine, family, and faith. And of the human spirit itself.
We are a participant in the Amazon Services LLC Associates Program, an affiliate advertising program designed to provide a means for us to earn fees by linking to Amazon.com and affiliated sites. We also participate in other affiliate advertising programs associated with other online booksellers. This means if you click on the link and purchase the item, The Zack Company, Inc. will receive an affiliate commission.