KILLER DEAL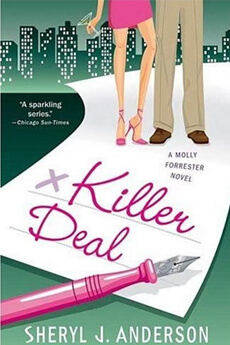 About the Book
St. Martin's Press
July 11,2006/ July 31, 2007
Format: Hard/Soft
"You need a body.  A really cool dead body . . ."
Molly Forrester's best friends know exactly what the Zeitgeist magazine advice columnist needs to prove herself as a true journalist.  And when Manhattan advertising maverick Garth Henderson is murdered, she just might finally get that chance with this juicy assignment: an exclusive interview with Gwen Lincoln, the victim's ex-wife and the prime suspect.
Was it a crime of passion—-or something more?  Manhattan's business circles are buzzing with rumors that it's related to Garth's buyout of a rival advertising firm.  Or infighting among "The Harem," his six beautiful, talented, and ruthlessly competitive creative directors.  Or fashion designer Emile Trebask, Garth's one-time client and now Gwen's business partner.
As if solving the ad world's most notorious murder on deadline wasn't enough, Molly must contend with a fickle editor with her own agenda, a best friend colliding head-on with true love, and ex-boyfriend Peter Mulcahy trying to worm his way into her story and back into her life.  Will it all be too much for Molly's current boyfriend, NYPD homicide detective Kyle Edwards?
Determined to catch the killer and beat the competition, Molly Forrester digs in her four-inch Jimmy Choos because there's no turning back.  In Manhattan, when you strike a deal, you see it through.  Even if it kills you.
Killer Deal is a thrilling, high-spirited addition to Sheryl J. Anderson's series of delicious Molly Forrester mysteries, including Killer Heels and Killer Cocktail.
"KILLER HEELS, Sheryl Anderson's hip debut mystery, sparkles like fine champagne, an intoxicating mix of wit, perception and insouciance and a wickedly clever but genuine depiction of single life in the City. KILLER HEELS will tap right to the top of the Best First lists."—Carolyn Hart, award-winning author of the Death on Demand mystery series
We are a participant in the Amazon Services LLC Associates Program, an affiliate advertising program designed to provide a means for us to earn fees by linking to Amazon.com and affiliated sites. We also participate in other affiliate advertising programs associated with other online booksellers. This means if you click on the link and purchase the item, The Zack Company, Inc. will receive an affiliate commission.