KILLER RIFF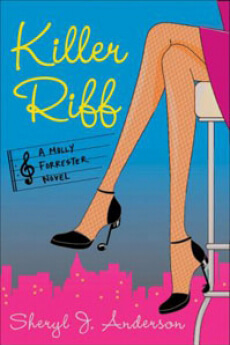 About the Book
St. Martin's Press
November 13, 2007/ July 29, 2008
Format: Hard/Soft
Since advice columnist Molly Forrester started solving murders, her work has grown very exciting while her love life has grown quite complicated.  But now, all the hard work and sacrifice might be paying off: she's being promoted to feature writer at Zeitgeist magazine and her ex, Detective Kyle Edwards, might want to get back together.  Could Molly actually be poised to have it all?
Fortunately, life is never that simple.  Olivia Elliott, the subject of Molly's article, proclaims her father, a famous music manager, was murdered, catapulting Molly into a glittering world filled with backstabbing widows, feuding rock musicians, and crazy paparazzi.  Adding to the tumult, her best friends, Tricia Vincent and Cassady Lynch, are going through romantic upheavals of their own, but they're still eager to assist Molly in her investigation.  Even Kyle finds himself drawn into the mystery and back into Molly's arms as she uncovers the dark secrets of rock royalty and learns that some musicians would kill for the perfect song.
"…chick lit fans, not to mention Sex in the City buffs, will find much to like."—Publishers Weekly, 10/22/07
"[A] hip trip into the world of the Manhattan elite" — Parkersburg News Sentinel, 12/09/07
""Sheryl Anderson is an excellent writer and the story has incredible twists and turns… a real page turner."—Mystery News, 01/01/08
We are a participant in the Amazon Services LLC Associates Program, an affiliate advertising program designed to provide a means for us to earn fees by linking to Amazon.com and affiliated sites. We also participate in other affiliate advertising programs associated with other online booksellers. This means if you click on the link and purchase the item, The Zack Company, Inc. will receive an affiliate commission.