THIRD BASE FOR LIFE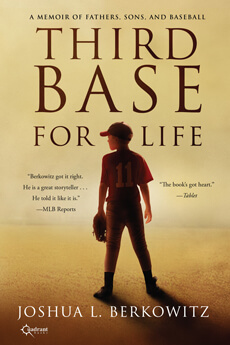 About the Book
A Memoir of Fathers, Sons, and Baseball
Vantage Point Books
Trade paperback (Spring 2012)
Quadrant Books
Trade paperback (June 2013)
Third Base for Life is the true story of twelve bungling and inept fourth grade boys from a small Jewish day school in Newton, Massachusetts who band together to challenge the top ten-year-old baseball talent in the country at Cooperstown Dreams Park, one of the nation's most prestigious youth tournaments. It's the Bad News Bears meets The Chosen in this humorous, yet poignant, memoir.
Each and every summer since 1996, ten thousand elite players from California to Florida visit Dreams Park in upstate New York to measure themselves against the very best. Five hundred thousand a year of their close family and friends follow suit to witness the unrivaled quality of play in the heated contest. Major League Baseball's annual draft is replete with players who at one time in their lives graced the diamonds of Cooperstown. Third Base for Life is the first-hand account of how an ordinary father who had not played baseball since Little League managed to put together a group of kids from his son's small religious school and somehow gain admittance into a tournament (and a world) where they simply do not belong.
Funny, touching, and a genuine tearjerker at times, Third Base for Life is a testament to the love between fathers, sons, and the game of baseball.
Praise for Third Base for Life:
"After reading this book, I would be very pleased to hear if Berkowitz had some Hollywood executives working to make this book into a movie. A good book never has a quick and easy storyline. There are challenges. There are ups and downs. Highs and lows.  Reading to the end of many chapters, I found myself continually saying "one more chapter…one more chapter", to find out what happened next. I was hooked. This is a book that went beyond fathers and sons in baseball, although that is the main theme. It is still at its core a baseball book. A grassroots book about baseball. About what kids go through in this game, from the preparation, to playing and their emotions after the last out is recorded. All baseball fans can appreciate a book that is devoted to baseball at such a strong level. Plus there is a great deal of Sandy Koufax references. Great baseball and Koufax go hand-in-hand.
"I will conclude my thoughts of Third Base For Life with this sentiment. I will admit that I cried on more than one occasion during my readings. Not an easy thing to admit as a guy, but it's true. What brought on those kind of emotions, you ask? Yeah…it was the father and son dynamic. Reading about Gabe's progression as a ballplayer with his dad as his coach and thinking of my own son playing ball and my role. Yes Josh Berkowitz, you got me misty eyed. A famous man once said that "there is no crying in baseball." When it comes to our children playing the game, I disagree. When it comes to our kids, there are tears of joy. There are tears of joy. But there is always emotion. I love my kids. I love baseball. Thus I loved Third Base For Life."—Jonathan Hacohen, MLB Reports
"But the losing is what makes the book worth reading. . . . the book's got heart. And the stories Berkowitz shares are relevant to all parents. Every parent should internalize the book's message that risk is its own reward. If you never let your kid fail because you're terrified of destroying his confidence, you're going to fail in your own job of raising a self-reliant, resilient kid."—Marjorie Ingall, Tablet Magazine
"Josh also described the Cooperstown Dreams Park youth baseball tournament experience in such vivid detail. If you had already been to Cooperstown Dreams Park you will likely feel like you were there again. Josh weaves his story skillfully with both pleasant and sad twists that will keep you reading. And throughout the story he tactfully teaches kids and dads alike the importance of overcoming the fear that holds us back."—StatsDad.com
"I read this book very quickly and wished the experience could have lasted longer. Third Base For Life draws obvious comparisons to The Bad News Bears, but I saw a lot of Field of Dreams and Moneyball in the story, too. The narrative made me laugh out loud, and it brought tears to my eyes in a few places. It is hard to identify which aspect of this story spoke to me so loudly and so clearly. It is as much a story about baseball as it is about a father's relationship with his son, and with his own father. For me, the story hit very close to home, in part because my sons also attend a small Jewish day school, and because I can't quite imagine rising to the challenge Berkowitz conquered."—Jewish Baseball News
We are a participant in the Amazon Services LLC Associates Program, an affiliate advertising program designed to provide a means for us to earn fees by linking to Amazon.com and affiliated sites. We also participate in other affiliate advertising programs associated with other online booksellers. This means if you click on the link and purchase the item, The Zack Company, Inc. will receive an affiliate commission.